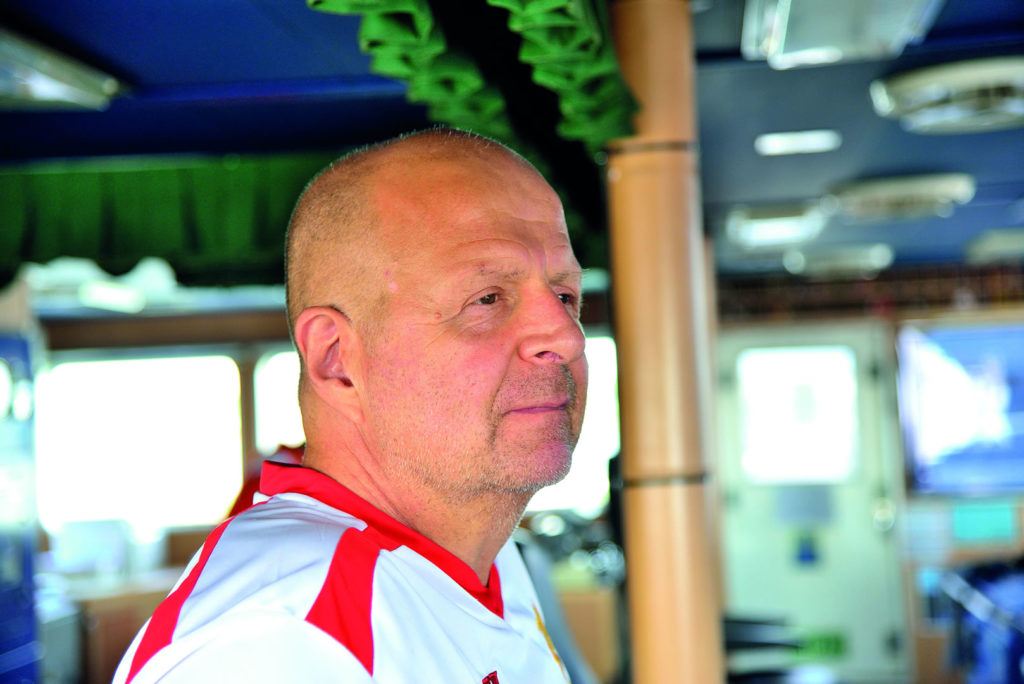 It takes Trans Exeter nine to ten days from ARA to Turkey. Most of us associate the Mediterranean with sunny beaches and a good life. For a seafarer, the picture is more nuanced. A winter storm in this area can even be dangerous for any vessel.
"We often sail between ports in Spain and France, between Tarragona and FOS, crossing the 'Gulf of Lion'. The name is justifi ed. In the winter season, the Mistral blowing down the Rhone valley can make the ocean really nasty," says Captain Geir Endre Tangen. After 41 years at sea, he knows what he is talking about. He started his career in Seatrans in 1977 but made a "break" in 1981 when he worked for other shipping companies. In 2005, he returned to Seatrans and has no plan to do anything else. "If it is up to me, I will be here until I retire," Captain Tangen says.
The day we meet Captain Tangen, the water is calm. Actually, we are in Moerdijk, close to Rotterdam where Trans Exeter is discharging Pygas. The operation takes time, but Captain Tangen and his crew have had a busy day.
Vetting
"A Flag state supervisor visited us today. We have four diff erent inspections, or vettings on our vessels. We have SIRE vettings twice a year, CDI and Flag state vetting annually and a Port state vetting that occurs occasionally and without any notice in advance. However, we are used to this. It is part of our job – the name of the game. Years ago, we had occasional inspections from the Flag State or Port State and we would gather the team and get the vessel 'ship shape'. That is a totally hopeless strategy these days. We have to keep the vessel in top shape all the time and this is a benefi cial approach for all.
It makes it much easier to welcome any supervisor on board to inspect our vessel. The idea of numerous inspections is to ensure the highest level of safety on board. In total, we defi nitely benefi t from this, both as a crew and as a company," Captain Tangen explains.
Leadership
Once you enter a vessel, you can feel the atmosphere on board. Trans Exeter is a popular vessel to work on and the tone on board is easy and positive. "We are 16 men on board and it is in our common interest to have a friendly atmosphere. I think we have succeeded in establishing a form of cooperation and an inclusive team spirit. We have diff erent jobs, but we share the responsibility for each other, the vessel and the cargo. You never hear anyone say it's not my problem. And after all these years, we know each other well. What's more, my Captain colleague Waldemar Wyszynski shares the same leadership style. We really try to make the crew change, including ourselves, as seamlessly as possible."
The meals
"Mealtimes are important on board a vessel. When we are sitting around the table, we have the time for informal exchange of news and small talk. We are blessed with a wonderful cook who lifts the meals to far, far more than just food. He makes delicious meals, so we take good care of him. The cook on board is alone in the galley and he works ten to twelve hours a day seven days a week.  I would say that a good cook is very important for a happy crew on board. And we are happy!" Captain Geir Endre Tangen concludes.