After a few months of searching, recruiting and countless interviews at
Seatrans offices in Poland, Croatia and Romania, the ten best candidates
were given the opportunity to prove that they fitted in with Seatrans' values.
Six of them passed the stringent test.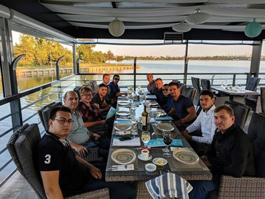 Ready for sea
Photo taken after the BBS course, showing Gabriel Herman (Crew Officer, Seatrans Ship Management Romania), Capt. Helle Mikkelsen
(Maritime Consultant, Green Jakobsen A/S), Mateusz Bronowski, Marcin Nawrocki, Piotr Peksyk, Filip Rumac, Maciej Siara, Stjepan Banusic, Marian Spataru, Silviu Taranasu, Bogdan Fratila and Adrian Popescu.
"Their adventure with Seatrans started with a phone call inviting them to Romania to attend the pre-employment familiarisation module, as well as the annual BBQ Party, that will ultimately lead to the final decision regarding their retention," recalls General Manager, Seatrans Ship Management Romania, Cristian Dumitrescu.
"Upon arrival in Constanta, the Polish and Croatian cadets, all of whom were excited to see how the next few days would unfold, were shown to their accommodation. Together with the Romanian candidates, they went through the familiarisation programme at the local office, as well as several other internal courses – QHSE course, Officers' seminar and BBS training.
They were closely monitored by their trainers throughout this process. All deck and engineering cadets were found to have a good command of English, positive attitudes and in-depth knowledge, so it was really hard to decide who would be selected."

Welcomed to the family

"Following careful analysis, we have decided that you deserve a job as a cadet in our company, and we have the pleasure of welcoming you to the Seatrans Family!" This was the message received by Stjepan Banusic, Filip Rumac (Croatia); Maciej Siara, Piotr Peksyk  (Poland) and Silviu Taranasu, Bogdan Fratila (Romania) upon being accepted into the company.
"First of all, I want to thank Seatrans for the opportunity they've given us, as well as for their commitment to cadets. I want to repay their trust by proving that I am worthy to be in Seatrans. The cadetship programme gave me the opportunity to improve my knowledge and my skills.
I really like being part of the Seatrans family. I was fortunate to find very professional people both at the office and on board, people from whom I have a lot to learn. I find Seatrans a very good company and I'm eager to continue and to grow in this company", says Deck Cadet Silviu Taranasu.
All the accepted cadets were divided between dry and tanker fleets in Seatrans and have been enjoying the benefits of a cadet's life ever since.