On Tuesday October 3rd, the "Ship of the Year 2016" award was finally handed over to the proud crew on SC Astrea.
The committee pointed out many good reasons for the nomination:
The vessel's technical and maintenance standards are very good. The improvements made since take over in 2011 are remarkable.
There is a positive working environment onboard
The Ship Management Team is solution-oriented.
The operational performance of the ship has been very good for a long time. This includes both working for Sea Cargo Wind and now in the liner system for Sea Cargo. The ability to adopt to new trades is exemplary.
The vessel's performance on PSC, flag state and class inspections is excellent.
The crew onboard have demonstrated a great ability to change and improve.
Other remarkable statistics are that SC Astrea has had zero personnel injuries, zero environmental spills and zero unplanned off-hire.
"The SHIP OF THE YEAR award is established to motivate and give credit to those vessels with distinguished performance. Like always, several vessels have been considered. The fleet performance in 2016 was very good. However, for 2016 the committee was sure that SC Astrea deserved the prize," the press release explains.
"You have done a fantastic job. Astrea has been nominated many times. People have mentioned the fact that once again, a chemical tanker has won the award, and they are right. Astrea has been among the top candidates. We've been around the vessel today, and I will say we are impressed. If you can remember what she looked like when we took her over and the way she looks today: It is amazing!" Managing Director Gisle Rong in Seatrans Ship Management confirmed the above in his speech to the crew. Nodding towards the crew, Captain Zbigniew Stypula emphasised that: "this award is down to your hard work! We have had great teamwork for many years. And yes, we hoped that is was Astrea's turn to win the Ship of the Year award this time," he concluded with a smile.
After receiving the plaque, all the crew members got a cap with the Ship of the Year embroidered on it. Celebrating with coffee and a wonderful homemade cream cake on the bridge afterwards, there is only one thing to say: They deserved it.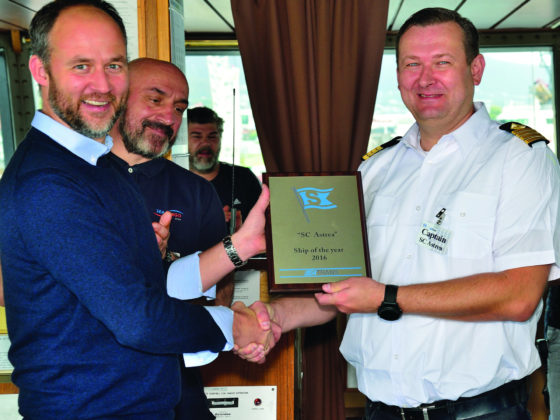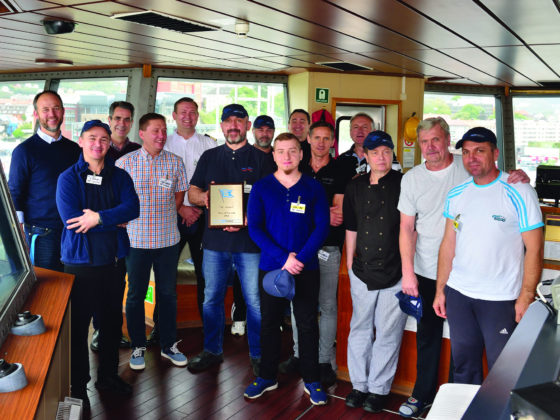 SC Astrea
Built in Norway, 1991
Length is 129 metres
Main engine Wärtsilä VASA 12V32E 4856 kW
Service speed 13.5 knots
Crew of 13 from Poland and Romania
Crew October 3rd
| | |
| --- | --- |
| Stypula, Zbigniew | Captain |
| Konfederak, Dariusz | Ch Off |
| Dudu, Alexandru | 2 Off |
| Bernard, Pawel | 3 Off |
| Szostek, Wojciech | Ch Eng |
| Szymanski, Krzysztof Marian | 2 Eng |
| Cop, Jan | Fitter |
| Szynkiewicz, Zbigniew Antoni | Chief Cook |
| Wierzbowski, Janusz | Bosun |
| Paczkowski, Piotr | AB 1 |
| Pricop, Catalin | AB 2 |
| Zamficu, Ilie | AB 3 |
| Ziolkowski, Wojciech | OS |