«I am very happy to work with Seatrans. I hope that I can work here until I retire," says Ruel Q. Fernandez (35) who is one out of five ratings from the Philippines on board SC Astrea. We met four of them before dinner in Bergen.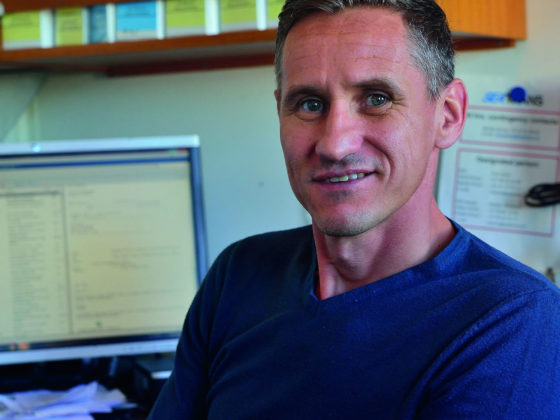 Welcoming: "They spread good mood on board. They are joking and laugh, and they are doing an excellent job, as we are used to by our team members," says Captain Dariusz Konfederak about his new crew members.
They come from various parts of this large country, but the ABs and the 3rd officer have taken courses at the Norwegian Training Centre (www.ntcm.com.ph/ ) run by the Norwegian Shipowners' Association in Manila. The cook is not a first trip sailor either.
Winter prepared
"I have sailed for 19 years and Seatrans is my 13th contract so far. I have sailed for Norwegian companies before, among them Odfjell, but it is the first time I am in Bergen," Rady O. Legada (47) explains. "I feel that I am being taken good care of, but I think it is a bit cold here," he adds. "In the Philippines, we only have two seasons and neither of them are
as cold as here."
Ruel Q. Fernandez and Kerwin L. Magpantay (29) have sailed with various types of ships, including RoRo vessels. "We are used to typhoons but the winter storms in the North Sea can be pretty rough as well. We are prepared, anyway," they say with a contagious laughter.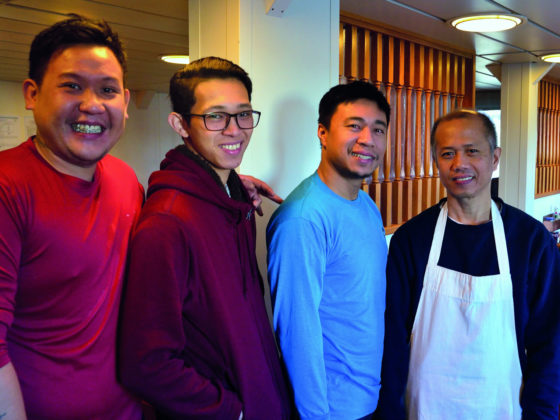 GOOD MOOD ON BOARD SC ASTREA: (from left) Ruel Q. Fernandez, Gian Carlo I. Pepito, Kerwin L. Magpantay and Rady O. Legada
Dedicated seafarers
Gian Carlo I. Pepito (23) is the 3rd officer on board. "The Norwegian Training Centre in Manila is a semi-private school that offers education for motivated young people wanting to serve in the maritime business. After the courses, the best candidates are offered a chance to complete the education as cadet. A lot of people actually wonder how I got the position at this young age. However, I got the position by working hard  and working smart. I became a cadet under the NSA (Norwegian Shipowners' Association) Philippine Cadet Program after a strict selection process.
After completion of the courses in the academy, along with the required one year on-board cadetship, the cadets then must undergo training for licensure and deployment at the discretion of the respective companies. I am very happy to have this chance with Seatrans. It is very nice to work here and so far, the crew of SC Astrea have been very accommodating!"
Welcomed on board
"I am very pleased to have the new crew members from the Philippines on board. They have very easily been integrated with the other crew members and we work very good together as a team," says Master Dariusz Konfederak on SC Astrea.