Trans Catalonia has made numerous voyages to China and the Far East, and every voyage there has its own challenges. In March, Trans Catalonia was high up in the river Yangtze in China. The river was calmer than normal, but this time it was the Corona virus outbreak which caused most concern, Master Joachim Rubin reports.
"Prior to arrival, the vessel had received a constant flow of information from Seatrans, the class organisation, Chinese authorities, agents and more. The problem was: none of these messages contained the same info! Information was continuously updated with actions and precautions to be taken to avoid a potential threat to crew. Additionally, we got online information that caused an awkward atmosphere onboard. Despite being addressed and discussed in our meetings, it certainly still remained a hot topic in discussions among the crew," says Rubin.
Well-prepared
Trans Catalonia left Singapore well- prepared, Rubin continues. "Thanks to an efficient purchase department, we even managed to get onboard an emergency kit from Lagaay pharmacy, containing masks, thermometers, disinfectant and more. The first impression when approaching China was that business seemed to be lower. We did not see the same crazy amount of small crafts on the river as we normally do. A lot of them were at anchor waiting for admission to enter the river."
Polite civil servants
"We were instructed by our agent to measure and send body temperature twice a day prior to arrival, and extra entry/exit forms had to be filled in by the crew, along with immigration checking temperatures and ensuring good crew health on arrival. All this had to be done prior to any boarding from shore or terminal crews. The officials were all polite and were doing their job; we did not notice any negative attitudes towards our crew members, which is the sad fact in many countries."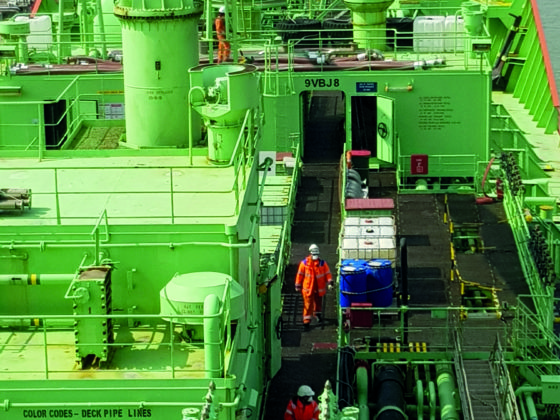 Hygiene regime
"As a part of all procedures and for our own safety, the vessel carried out checks of all visitors, we organised frequent cleaning and disinfecting of areas and compartments accessed by shore personnel. A part of this included wearing a mask and trying not to scratch behind it… (For those of us who use them…) This is not easy; the masks itch, you are sweating, and your breath even creates a fog on your glasses. It was therefore good that the number of visitors and officials was kept to a minimum. Everything went smoothly. So, let us hope they realise it can be done this way in the future as well."
Emergency rations
"Unfortunately, the fresh provisions didn't last more than four weeks, and new provisioning was an option we had to remain without. This put pressure on our Galley department who had to perform magic with what they had. Now we know how to invent new dishes! Luckily, most of us have some emergency rations stored as a belt around the waist. There was no imminent danger, but just the thought of a fresh tomato…," Rubin recalls.
Home for quarantine
"The main issue now is what's going to happen in the future. Some guys are already due for crew change, but with
all the restrictions being implemented around the world, this will be a challenge. What if you're quarantined when you arrive home?"
"All in all, the stay went well. The crew did a very good job at keeping the life and atmosphere onboard normal, acting very professionally (typical Seatrans crew!!!) despite being under constant pressure due to procedures, precautions etc. which were requested and to be executed from the office onshore. And remember: Despite this, a seaman's life is at SEA!" Master Joachim Rubin concludes.